Happy St. Patrick's Day!!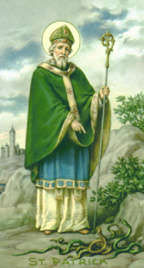 From all of us here at joelmacmull.com, we're wishing you and yours a very healthy and happy St. Patrick's Day! Please drink responsibly.


St. Patrick's Day is a kind of a funny holiday to me. Don't get me wrong, I think we're all indebted to St. Patrick for driving out all the snakes from Ireland, but I find it curious that certain ethnic groups who have never before identified themselves as Irish or displayed any interest in Ireland whatsoever, suddenly can't do enough to show their interest in all things Irish. Of course, I'm speaking here of a connection that goes well beyond college students wearing green t-shirts that say "Kiss me, I'm Irish" and the like.
Anyway, I suppose I shouldn't over analyze this too much and should just enjoy the revelry at a local pub like everybody else.
I shall have a drink for my Irish Jewish brethren. Yeah, I know, I didn't know there were Irish Jews either. Details
here
.